Meet your new favorite reason to refresh your inbox.
The CARRY™ ALL is the weekly newsletter for and by working moms.
Each edition of The CARRY™ ALL includes:
Think of this as your working mom lifeline. Our team is scouring all the archives and message boards so you don't have to — and we're serving up tips and tricks that save your schedule, wallet and sanity.
A real life look at inspiring working moms in the thick of it. Each week, we feature a mom making moves in their industry or community. Sometimes you'll already know them and sometimes they'll be new — but every week, they're a working mom just like you.
We get all up in our feels on this one and write a letter to a different working mom each week. The first-time mom going back to work. The mom putting her career on hold to stay home with her babies. The mom who is missing another soccer game so she can finally get the promotion.
Either a virtual toast to the organizations doing big things for moms who work— or a call to do better for the ones who aren't.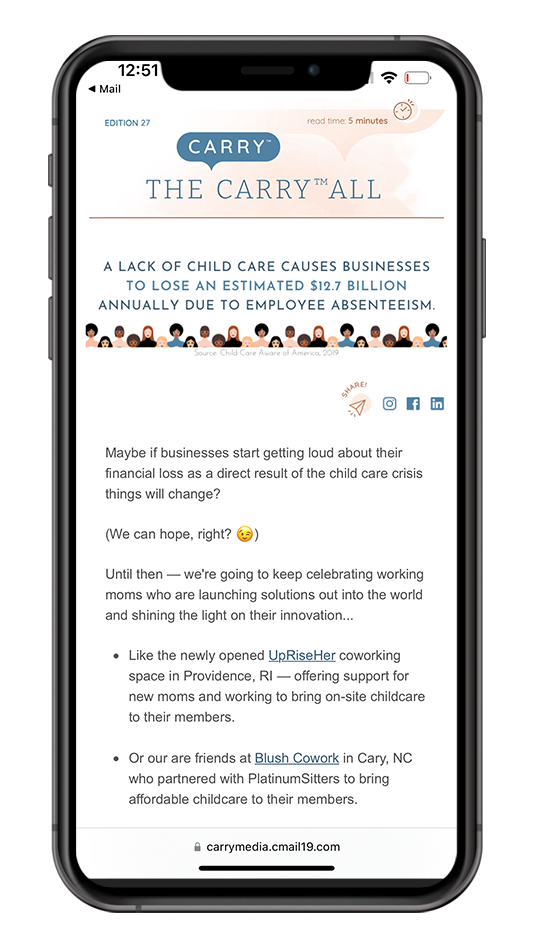 The weekly newsletter written by and for moms who work — designed to keep you in the know, save you time and tell your stories.