Working moms deserve to be heard – we're committed to turning up the volume.
CARRY Media™ was founded by Paula Faris — wife, working mom, Emmy-Award winning journalist, and author. Her deepest desire is to amplify the story of the working mom, cheer her on, and advocate for change that transforms her reality.
A LETTER FROM OUR FOUNDER
We'll use multiple media forms to get your stories out to the world – and no matter how we do it, we'll always hold to our core values:
We CELEBRATE, we don't scrutinize.
Whether you work because you need to or you work because you want to — we're not judging you, we're cheering you on and giving you the mic.
We ASK for help, we don't try to be the hero.
Just because you can do it alone, doesn't mean you should. We're giving you one giant permission slip to call in the troops and ask for help.
We ADVOCATE, we aren't annoying.
We're amplifying your voice because it deserves to be heard and we're changing the narrative by telling it like it is.
We EMBRACE life, we don't project perfection.
We all know there are days when we forget to swipe on deodorant or actually pick up the groceries — so why waste time pretending anything else is true? We don't have it all together and neither do you.
We DISRUPT, we don't DESTRUCT.
We're rocking the boat, changing the game, and flipping the status quo on its head — and we're doing it with intention. We're not bulls in a china shop — we've got a little more grace.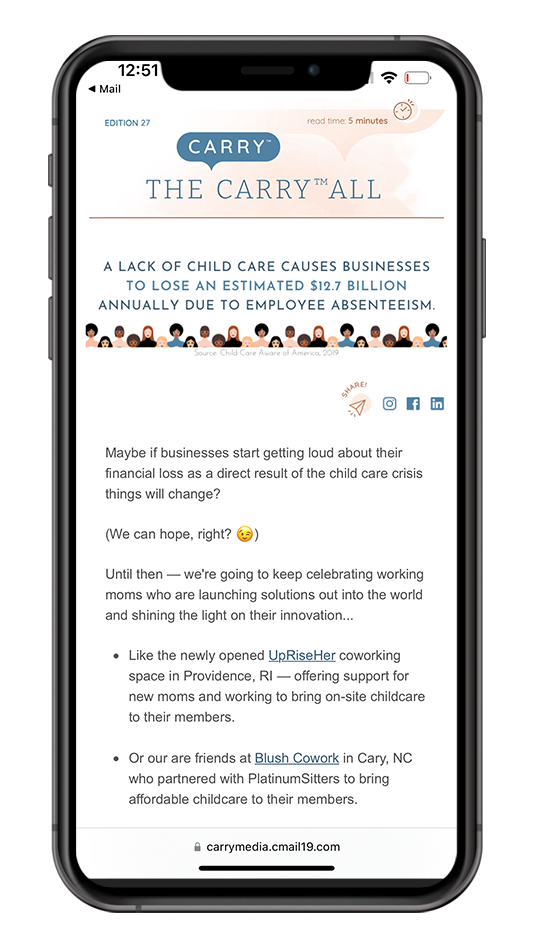 The weekly load-lessening newsletter written by and for moms who work — designed to keep you in the know, save you time and tell your stories.
Journalist, 10% Happier Podcast Host
Founder Propel Women, A21 Campaign
Content Director, Women's Day Magazine
Chief Marketing Officer, ACE Hardware
Former GE Marketing Chair, Nike B.O.D.
Co-Founder & Co-CEO EVEREVE
Trauma Therapist and In The Light Podcast Host